Låt Den Rätte Komma In – 2008 (Let the right one in)
Låt Den Rätte Komma In – 2008 (Let the right one in)
Eli (The Vampire)
I love horror movies. That is why I am on this forum! I thought that I would offer you up some reviews of some of my favourite movies of recent years. I generally (although not always) shy away from big budget hollywood efforts and usually prefer smaller indie films, or foreign cinema, particularly Japanese and Korean. But to open, I have chosen the most classic of all horror genres – the Vampire film. Oh, God, no – not another one. How many times can a simple idea of an undead creature feeding off the blood of the living be re-told? I think that we all know that the answer is 'lots', and with an infinitely varying degree of success. Well, this Swedish film is, in my opinion, the best Vampire movie ever made. It started off as a 'slow burner', gaining a low key US release, but grew by word of mouth, culminating with Mark Kermode naming it as his best film of any genre of 2009.
I know that is a big claim, but stick with me whilst I give you some background. This is not a big budget special effects extravaganza, with tough-but-gorgeous babes leaping about and dodging explosions in PVC vests (I don't DO that sort of film). It is a gorgeous coming-of-age story, combining first love, growing up, and revenge. It is a film where the main protagonists are twelve years old, but it is most definitely not a kid's movie.
Oskar - The lonely boy
Oskar lives with his work obsessed Mom in an apartment block just outside Stockholm. His parents are separated, and his Dad is an alcoholic. Basically, Oskar is a very lonely kid, and to make matters worse, he is being cruelly bullied at school. Suddenly, a strange girl moves into the apartment next to Oskar, accompanied by a taciturn middle-aged man called Hakan. The two kids bond over a Rubik's Cube, and Oskar discovers that the new girls name is 'Eli'. But Eli is not what she appears, in a myriad of different ways. Oskar asks how old Eli is, and she replies 'Twelve, more or less', Later we discover that she has been twelve for a very long time. Soon after Eli and Hakan arrive, there are a series of strange disappearances. Bodies are discovered drained of blood. We discover that Eli is a Vampire. She needs to feed off human blood, and Hakan, who obviously has a deep love for Eli, collects it for her. This is just one of many, many layers of depth in this film; not all of which are explicitly answered. What is Hakan and Eli's relationship? How long has Hakan been killing for her? How many Hakan's have there been over the years? Will Oskar become like Hakan? Will he kill for her? Does Eli love Oskar in return, or is she just looking to use him as her next guardian – to look after her during daylight (Vampires burst into flames if exposed to the rays of the sun)? It is also the reason why Eli and Hakan have to move around so much, never staying in one place for more than a few weeks. Eventually, one of Hakan's foray's for blood goes horribly wrong, and he is left in a position where he will be discovered and arrested. His loyalty to Eli is such that he chooses to disfigure his own face with acid just so that he cannot be identified and traced back to Eli's apartment. Now Eli must hunt for herself, and Oskar realises what her true nature is. But by this time, he has fallen in love with her. Can he love a Vampire? Is Eli even a girl? Eli helps Oskar to stand up to the Bullies at school, and he does so, with a brutality and coldness that makes you wonder if he is not the perfect replacement for Hakan. But the bullies' older brother is even more brutal, and wants revenge; and a final stand-off in the school swimming pool has a shocking climax. How does it all end? I won't spoil it – you will have to watch it yourself.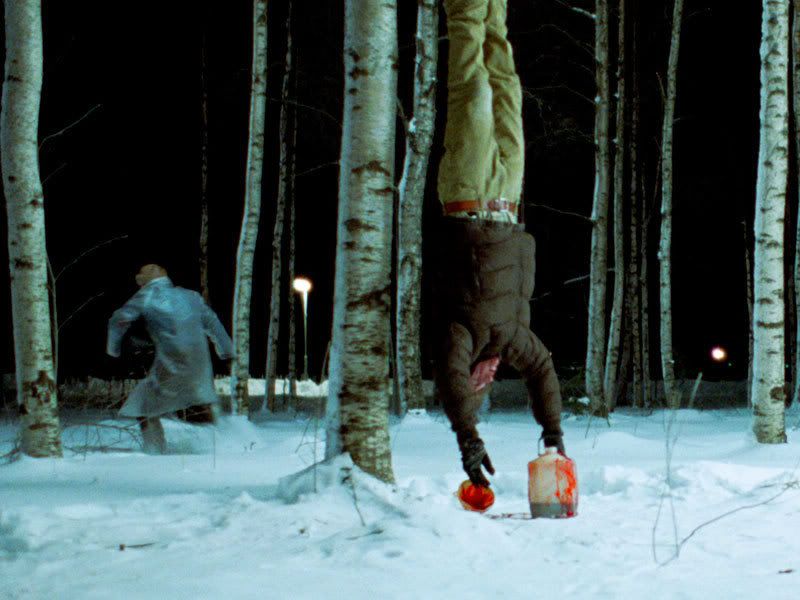 Hakan collecting food
This is a beautifully constructed film. It is filmed in a Swedish winter – snow covers everything, and as Quentin Tarantino knows, blood and snow make quite a visual spectacle. The two actors playing the leads do a wonderful job. Oskar portraying innocence and Eli an other-worldly strangeness as their friendship turns to love. The film is based on a best-selling Swedish novel, written by a Swedish stand-up comedian called John Ajvide Lindqvist, and he also provides the screenplay for the film. It has won an astounding haul of awards since its release in Sweden in 2008 – 42 so far, and is fast becoming a cult classic. It deserves to be. It is one of the most original and entertaining films that I have seen, of any genre, for quite a long time. It is also the only one with a title taken from a 'Morrissey' song (the author is apparently a big fan). Lindqvist said that when he had the initial idea for the story, he tried to think what it would be like to be trapped as twelve years old for eternity, forced to kill to survive. The answer was sad and lonely; and the film portrays this sadness brilliantly. But the hope and redemption comes with love, and at heart, this is a love story. If a love story can be pure and innocent with a distinctly dark and disturbing centre; then this film is it.
Just a few words of advice if you do want to see it. Try to see it in a cinema if you can. Two reasons – firstly the cinematography is great, and will be best appreciated on a big screen. The shots are either very, very tight close ups, or long, wide shots of the Swedish snow. Plus there is some controversy regarding the subtitles. I first watched this on a DVD imported from the USA. There is a dubbed version, but it is really badly done. I watched it with my 15 year old, and even he suggested switching to the subtitled Swedish option after about five minutes. The cinema version has sub-titles that are apparently truer to the original Swedish dialogue – with the nuances of language and black comedy intact. The USA DVD version has 'dumbed down' subtitles – losing all the subtlety of the dialogue. It is still a great film, but some of the 'meaning' is lost with such literal translation. There have been a load of complaints about this to the distributor, and amazingly they have agreed; and a new version is now being prepared for release. This one will bear the legend 'English subtitles (theatrical)' – so watch out for that.
Inevitably, as always when a foreign film is so brilliant, Hollywood has thought 'Hmmm, that works, but no-one will want to see a film that has Swedish people in it, set in a place that no-one has ever heard of, and speaking a language that no-one understands. Lets re-make it, set it in the USA with all-American characters, and strip out all of the nuances and gender ambiguity that made it work so well in the first place'. And so a Hollywood version is being made even as you are reading this piece. Be afraid. Be very afraid.
Dead and Buried

Posts: 2
Joined: Mon Sep 20, 2010 8:44 pm
---
LET THE RIGHT ONE IN is a masterpiece, IMO. It's a damn near perfect film (the only thing keeping it from perfection is the wonky CGI during one scene), and definitely my one of my favorites -- if not my *single* favorite -- film of the last 10 years.

Fantastic. I like the remake a lot too, believe it or not.
Twitching Corpse

Posts: 19
Joined: Sun Mar 13, 2011 11:51 pm
Location: NC
---
---
Return to HorrorTalk.com Reader reviews
Users browsing this forum: No registered users and 1 guest